"This latest ClearAngel financing reflects our interest in founders who offer new perspectives to growing markets." – Andrew D'Souza, CEO and Co-Founder, Clearco
Clearco, the world's largest e-commerce investor revolutionizing the way founders grow their businesses, today announced that its ClearAngel program is funding Staggerings, LLC, a silicone ring line that combines fashion and functionality. ClearAngel gives early-stage founders access to earnings equity capital, data-driven advice and Clearco's extensive network of apps, agencies and investors.
Staggerings, founded in 2019, designs, makes and sells unique patented silicone rings. As a mother of nine, Julie Maddocks loves silicone rings because they are practical, but she couldn't find one to match her fashion preferences. This inspired her to patent her own designs and start her own silicone ring company. Staggerings has successfully differentiated itself from other silicone accessory lines, but now wants to get more exposure and build brand awareness. ClearAngel allows them to invest in additional inventory and to amplify their advertising and marketing efforts.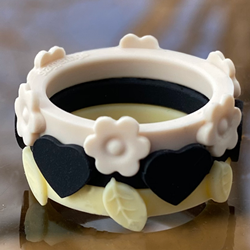 ClearAngel is one of the few equity-free, flexible capital options for early-stage founders who would benefit from raising an angel round or joining exclusive accelerators, but don't have the network to do so. In the short time since February 2021, the program has already funded more than 350 companies.
"Staggerings is shaking up the accessory and activewear industry with its unique approach to fusing functionality and fashion," said Andrew D'Souza, CEO and co-founder of Clearco. "This latest ClearAngel financing reflects our interest in founders who offer new perspectives to growing markets."
In addition to $10,000 in flexible capital, Staggerings will also gain access to a network of more than 500 investors, growth teams, agencies, apps, attorneys and buyers; and data-driven advice designed to help scale and achieve new revenue milestones. Backed by ClearAngel, Staggerings will be able to implement Google and Facebook advertising, email marketing and influencer marketing ahead of the release of their fall collection.
"ClearAngel helps us grow through one of the most important aspects of our continued success: exposure," said Julie Maddocks, Staggerings, LLC. "We want to give everyone more fashionable options in functional accessories. No one has to settle down."
To learn more about Staggerings, LLC and to experience their functional fashion for yourself, visit staggerings.com.
ClearAngel is currently working on e-commerce and product businesses. Limited spots are available for SaaS, Apps, Marketplace, and Stealth businesses. For more information, visit angel.clearbanc.com.
About Clearco:
Co-founded as Clearbanc in 2015 by Michele Romanow of Canada's Shark Tank (Dragons' Den), Andrew D'Souza, Ivan Gritsiniak, Charlie Feng and Tanay Delima, Clearco offers the most founder-friendly capital solutions for e-commerce, mobile apps and SaaS founders, as well as a full suite of products and access to a powerful global network, insights and data and recommendations. Clearco has invested more than $2 billion to date in more than 4,500 companies, including Leesa Sleep, fashion rental company Le Tote, homeware company Public Goods, shirtmaker UNTUCKit, online speech therapy practice Expressable and digital real estate marketplace SetSchedule. For more information, visit clear.co and @getClearco.
Share article on social media or email: